VeriCheck Oral Fluid Drug & Alcohol Test
Over 2 years of research and development went into both the performance and design of this test with a goal of making it better than any other drug and alcohol test. 
WHAT MAKES OUR TEST THE BEST
The VeriCheck Oral Fluid Test is equipped with a swab, separate from the device, that contains a saturation indicator.
This ensures that the right amount of fluid is collected every time. This gives consistent, reliable results and eliminates under or over-saturation.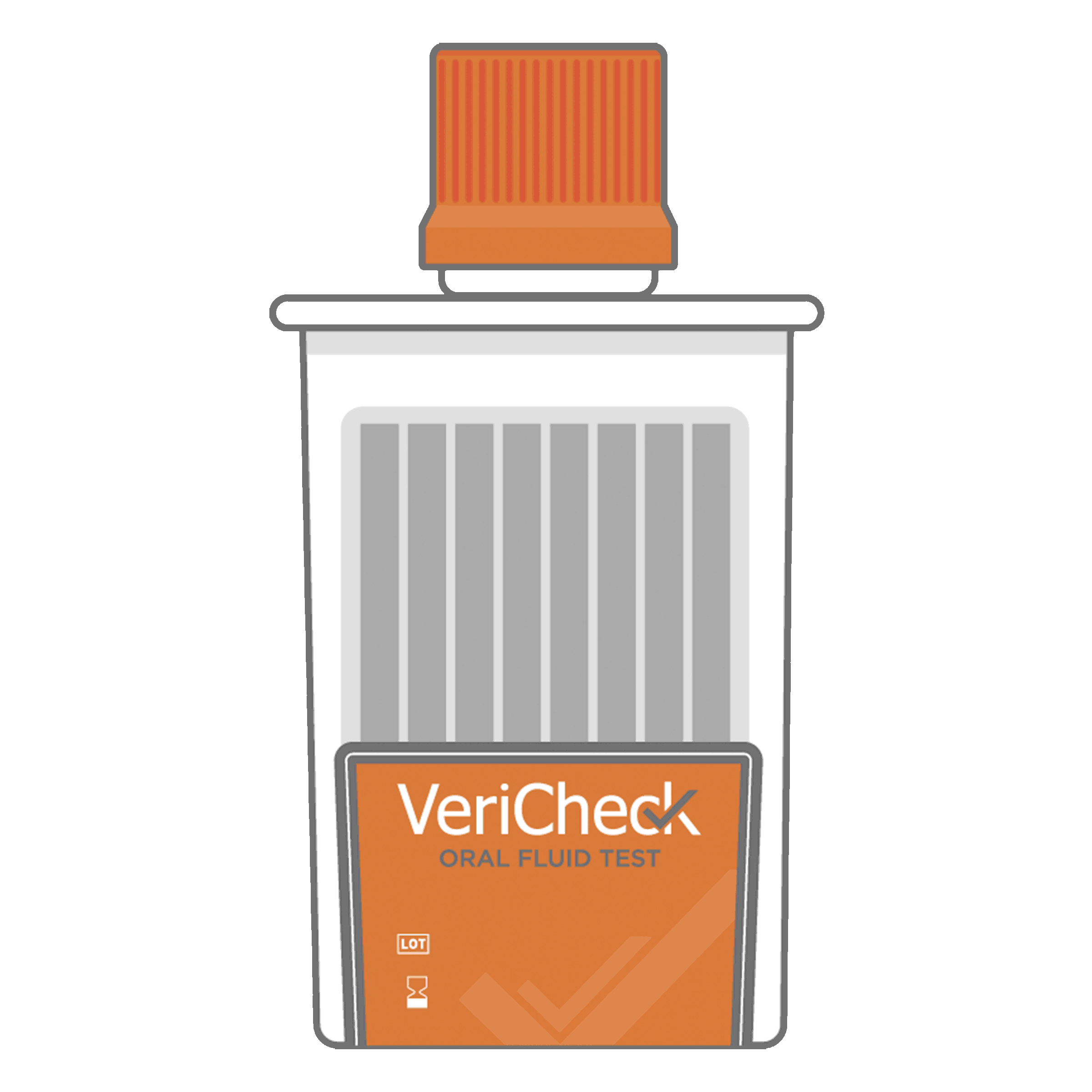 The VeriCheck Oral Fluid Test is easily customizable.
We give you the ability to react quickly when drug and alcohol testing guidelines change. We can adjust the test strips to suit your or your clients' needs.
 The VeriCheck Oral Fluid Test is pioneering new technology in oral fluid testing. Without astronomical associated costs.
Our easy-to-use, customizable test is affordable and reliable for point-of-care drug and alcohol testing for up to 16 drugs. Making it a perfect fit for every testing program.
ISSUES SOLVED BY OUR NEW ORAL FLUID TEST
When collecting oral fluid, it can be difficult to gauge whether enough has been collected to activate the test properly.
On the other hand, over-saturation of the swab can also make the test invalid.
Most oral fluid tests contain static panels that test for 6 or more specific drugs.
In order to add or change a panel, the entire test needs to be redesigned. This costs your business time and money.
On-site oral fluid drug testing is often overlooked.
It has historically been deemed as unreliable, expensive and limited in the drugs it can test for. The VeriCheck Oral Fluid Test is not only versatile, it is also economical.
The test system consists of up to 16 membrane strips mounted in a plastic device.
This device can detect any combination of the following drugs, at the concentrations listed below.
Specific combinations will vary according to the strip in question:
Click to See Available Drugs for Testing
| | | |
| --- | --- | --- |
| TEST | CALIBRATOR | CUTOFF (MG/ML) |
| 6-MAM | 6-Monoacetylmorphine | 10 |
| Alcohol (ALC) | Alcohol | 0.02% |
| Amphetamine (AMP) | D-Amphetamine | 50 |
| Barbiturate (BAR) | Secobarbital | 50 |
| Benzodiazepine (BZO) | Oxazepam | 10 |
| Buprenorphine (BUP) | Buprenorphine | 5 |
| Cannabis (THC parent) | 9-THC | 50 |
| Cannabis (THC) | 11-nor-9-THC-9-COOH | 10 |
| Cocaine (COC) | Cocaine | 15 |
| Cotinine (COT) | Cotinine | 50 |
| Ecstasy (MDMA) | 3, 4-Methylemedioxymethamphetamine | 50 |
| EDDP (EDDP) | 2-Ethyliden-1, 5-Dimethyl-3, 3-Diphenylpyrrolidine | 20 |
| Fentanyl (FYL) | Norfentanyl/Fentanyl | 10 |
| Hydromorphone (HMO) | Hydromorphone | 30 |
| K2 | JWH-018/JWH-073 | 50 |
| Ketamine (KET) | Ketamine | 50 |
| Methadone (MTD) | Methadone | 30 |
| Methamphetamine (MET) | D-Methamphetamine | 50 |
| Opiates (OPI) | Morphine | 30 |
| Oxycodone (OXY) | Oxycodone | 30 |
| Phencyclidine (PCP) | Phencyclidine | 10 |
| Propoxyphene (PPX) | Propoxyphene | 50 |
Click to See Available Drugs for Testing
| | | |
| --- | --- | --- |
| TEST | CALIBRATOR | CUTOFF (MG/ML) |
| 6-MAM | 6-Monoacetylmorphine | 10 |
| Alcohol (ALC) | Alcohol | 0.02% |
| Amphetamine (AMP) | D-Amphetamine | 50 |
| Barbiturate (BAR) | Secobarbital | 50 |
| Benzodiazepine (BZO) | Oxazepam | 10 |
| Buprenorphine (BUP) | Buprenorphine | 5 |
| Cannabis (THC parent) | 9-THC | 50 |
| Cannabis (THC) | 11-nor-9-THC-9-COOH | 10 |
| Cocaine (COC) | Cocaine | 15 |
| Cotinine (COT) | Cotinine | 50 |
| Ecstasy (MDMA) | 3, 4-Methylemedioxymethamphetamine | 50 |
| EDDP (EDDP) | 2-Ethyliden-1, 5-Dimethyl-3, 3-Diphenylpyrrolidine | 20 |
| Fentanyl (FYL) | Norfentanyl/Fentanyl | 10 |
| Hydromorphone (HMO) | Hydromorphone | 30 |
| K2 | JWH-018/JWH-073 | 50 |
| Ketamine (KET) | Ketamine | 50 |
| Methadone (MTD) | Methadone | 30 |
| Methamphetamine (MET) | D-Methamphetamine | 50 |
| Opiates (OPI) | Morphine | 30 |
| Oxycodone (OXY) | Oxycodone | 30 |
| Phencyclidine (PCP) | Phencyclidine | 10 |
| Propoxyphene (PPX) | Propoxyphene | 50 |